We can help you find local opiate addiction treatment, call
877-743-0081
for a free referral.
Who Answers?
As harmless as casual opiate abuse may seem, the effects of these drugs destroy lives, families and the futures of those affected. When left to its own devices, an opiate abuse problem soon morphs into opiate addiction without you even knowing it.
If you've reached the point where getting and using opiates has become the only bright spot in your life, there's a definite need for some form of opiate rehab help. It helps to know that some of the best opiate rehab centers can be found in Oklahoma in areas like Oklahoma City, Edmond and Norman. These programs specialize in helping individuals overcome addiction and build healthy, drug-free lives.
While it's not easy to see addiction for what it is, the more honest you can be about your situation the easier it will be to find a rehab program that's right for you. Call our toll-free helpline at 877-743-0081 (Who Answers?) for more information on treatment program options.
Inpatient vs. Outpatient Opiate Addiction Treatment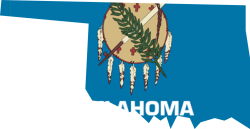 Opiate addiction treatment centers operate as either inpatient or outpatient facilities.
According to the Pennsylvania Department of Drug and Alcohol Programs, inpatient programs treat the most difficult cases of addiction where other serious conditions, such as clinical depression or diabetes have developed as a result of chronic drug abuse. Inpatient programs also require you to live at the facility.
Outpatient programs treat less severe forms of addiction, or can act as transition programs for people who've completed inpatient care. These programs allow you to live at home.
Ultimately, opiate addiction treatment should provide the level of support needed to help you stay clean and sober on an ongoing basis.
Oklahoma Opiate Detox Centers
In effect, treatment for opiate addiction can't begin until drug use stops. Detox treatment addresses the body's physical dependence on opiates. Addiction treatment deals with the destructive mindset that chronic drug abuse leaves behind.
Whenever addiction is present, detoxing or stopping drug use requires some form of opiate detox center treatment help. Opiate detox centers also operate on an inpatient or outpatient basis so it's important to be honest about your condition so you can choose the program that works best for you.
If you need help finding a detox program, call our helpline at 877-743-0081 (Who Answers?) to ask about detox treatment options.
Your Privacy During Opiate Addiction Treatment
Social stigma surrounding drug abuse and addiction still exist in today's society. Questions of moral conduct and the "addict's" so-called ability to choose not to do drugs can make it difficult to be honest about your situation, let alone seek out needed treatment help.
For these reasons and others, treatment centers for opiate addiction work to maintain your privacy rights regarding all aspects of your treatment stay. According to the U. S. Government Publishing Office, the procedures these programs use have been put in place by federal mandates specifically enacted to protect patient rights.
These protections create treatment environments where you don't have to worry about your information being shared without your foreknowledge and prior consent.
How Long is Rehab?
The recovery process is different for everyone. Opiates interact with the brain as well as the body's major systems and each person's physiological makeup responds in different ways.
In cases of severe addiction, some people may develop chronic medical and/or psychological problems from the damaging effects of the drug. These conditions can lengthen treatment duration considerably. In effect, treatment for opiate addiction works to address the addiction as well as any other problems that result from chronic drug abuse.
If you're coming off a severe addiction program, you'll likely need to spend more time in structured treatment settings, such as inpatient and residential programs than someone who's at the early stages of opiate abuse. Likewise, the overall treatment process will be longer for severe addiction problems.
What's most important is to ensure you're able to maintain abstinence for the long-term before trying to go it alone.
Call our helpline at 877-743-0081 (Who Answers?) to ask about how the drug rehab process works.
I Want to Find Treatment for Opiate Addiction in OK
Opiate addiction treatment centers encompass a wide spectrum of services, treatment settings and treatment approaches. With so many options to choose from, it helps to base your search on your specific treatment needs as well as on the merits of any one program, according to the National Center for Biotechnology Information.
While daily responsibilities, such as work, school and household obligations may warrant finding a program that's able to work around your schedule, it's especially important to ensure that a program offers the level of structure and support needed to help you get drug use under control. Opting for the more "convenient" option may make sense in the short run, but can actually put you in a worse position than you're in now.
In essence, the best opiate rehab centers will not only provide effective treatment, but will also be able to meet your particular treatment needs.
Paying for Treatment
It's hard enough keeping up with everyday bills and expenses without the added worry of how to pay for opiate rehab. The costs of drug treatment run neck-in-neck with any other form of healthcare so rehab costs can indeed run high.
The good new is substance abuse treatment is covered by health insurance. Likewise, treatment centers for opiate addiction will take insurance as form of payment.
Something else to keep in mind is changes in healthcare laws require insurance companies to provide the same level of benefits for drug rehab as for any other form of medical treatment, according to the Centers for Medicare & Medicaid Services. This means most, if not all, of your treatment costs will be covered by insurance.
Insurance coverage options include:
Employer-based group plan
Medicaid
Individual health plans
If you or someone you know struggles with opiate addiction, this is not something you can overcome on your own. Addiction is a state of mind in terms of the thoughts, beliefs and motivations that drive drug-using behavior. In effect, the addiction mindset traps you inside a world of its own.
For these reasons, it's important to act on your desire to get well now or else addiction's hold will soon conjure up the all too familiar feelings and urges to get "high." If you need help determining what your treatment needs are and what programs will work best for you, call our toll-free helpline at 877-743-0081 (Who Answers?) to speak with one of our addiction specialists.
Submit a new listing or provide corrections to an existing one